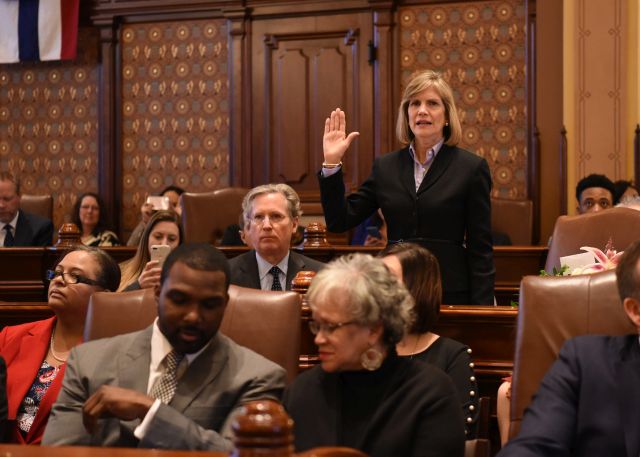 State Senator Suzy Glowiak Hitlon (D-Western Springs) has committed her life to public service.
She served two terms on the Recreation Commission, including two years as its Chair. The residents of Western Springs recognized her dedication to her community and elected her village trustee in 2009 and 2013.
During her tenure on the Western Springs Village Board, Glowiak Hilton has been a voice for balanced budgets. While chairing the Public Works and Water committees, she took major steps in improving the water quality with the construction of a new water purification plant. She also served on the Planning and Zoning Committee and was the Chair of the General Government Committee.
Professionally, Glowiak Hilton works as an engineering consultant in the Western Suburbs assisting clients in conflict resolution through report writing and expert testimony.
She has a master's degree from Northwestern University in manufacturing engineering which she earned after achieving early professional success and starting a family.
As a state senator, she works in a bipartisan manner to promote compromise and collaboration and to find meaningful solutions to lower property tax bills, ensure local schools and universities have the resources to be successful and keep children safe.
Glowiak Hilton declined to accept a pension as State Senator because she is committed to passing a balanced budget every year and properly funding Illinois' pension system.
She currently serves on the following committees in the Senate: Labor (Vice-Chairperson), Appropriations II, Education, Energy and Public Utilities, Insurance and Local Government.
Glowiak Hilton is a member of the First Congregational Church of Western Springs, where she served on the Properties Committee and was a board member of the Woman's Society.
She raised three children in Western Springs where she and her family have resided for over 25 years.