Published: Friday, June 21, 2019 02:41 PM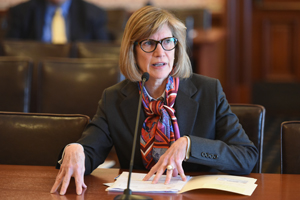 OAKBROOK TERRACE– Willowbrook residents will soon have regulations in place to address the public health crisis created by unsafe levels of the cancer-causing chemical ethylene oxide in the community's air supply.
State Senator Suzy Glowiak (D-Western Springs) partnered with State Senator John Curran (R-Downers Grove) to pass a package of measures that will protect communities across the 24th State Senate District. The measures were signed into law on Friday
"These bipartisan laws will not only ensure local residents are safe from this cancer-causing chemical, but also strengthen the Illinois Environmental Protection Agency's ability to do their job," Glowiak said. "The residents of Willowbrook have been courageous advocates in the fight to protect all of us in DuPage County. I would like to thank them for their dedication to safeguarding our neighborhoods for generations to come."
Glowiak applauded Illinois House Republican Leader Jim Durkin (R-Western Springs), Curran and State Senator Melinda Bush (D-Grayslake) for fighting to safeguard not only Willowbrook but all of Illinois from this disastrous public health hazard.
"We need to be able to breathe," Glowiak said. "The constant pollution from Sterigenics was stifling our ability to stay healthy. These new regulations will keep our families and loved ones safe. This is proof that if we all work together we can leave a positive impact on our communities."
The two measures take a multifaceted approach to address this health crisis:
Senate Bill 1852:
Requires ethylene oxide sterilization facilities to reduce emissions by 99.9% or to 0.2 parts per million.
Sets emissions, dispersion and ambient air testing protocols
Strengthens Seal Order implications regarding ethylene oxide sterilization facilities and sets setback distances for the construction of future facilities near schools or parks.
Senate Bill 1854:
Prohibits facilities that emit more than 150 pounds of ethylene oxide and that reside in a county with a population of at least 700,000 from operating unless the facility meets certain criteria outlined by IEPA.
Glowiak is looking forward to working with Curran to pass policies that keep the people of DuPage and Cook counties safe.
Category: Press Releases