Published: Friday, July 19, 2019 01:14 PM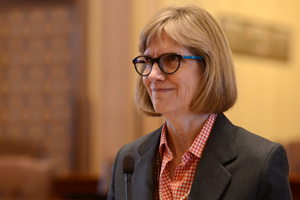 OAK BROOK TERRACE – More than 50,000 students in Illinois were classified as homeless during the 2016-17 school year, according to data from the National Center for Homeless Education.
State Senator Suzy Glowiak (D-Western Springs) is working to change that.
Glowiak's House Bill 2983, which creates the Youth Homelessness Prevention Subcommittee under the Governor's Cabinet on Children and Youth, was signed into law on Friday
The subcommittee will review and make recommendations about the policies and procedures for agencies that handle youth leaving state custody, with the goal of ensuring housing stability for youths exiting the system.
"We need to find solutions to end homelessness among youth in our communities, and to provide stability and protection to children whose basic needs are not being met," Glowiak said. "The State of Illinois has a responsibility to fight this crisis and provide our children housing security."
According to the General Assembly's findings, 1 out of 10 people between the ages of 18-25 are experiencing homelessness for some amount of time over a 12-month period. For those age 13-17, 1 in 30 experience a form of homelessness over a 12-month period.
Research shows that homeless children are 87 percent more likely to drop out of school, while those who drop out of high school are four-and-a-half times more likely to become homeless as adults.
"Stable housing is fundamental in ways so many of us take for granted," Glowiak said. "It's the basis for academic and social opportunities. My hope is this subcommittee will create a long-term path to help us reach our goal to eliminate homelessness among our children once and for all."
The law goes into effect on January 1, 2020.
Category: Press Releases