Published: Thursday, September 05, 2019 04:18 PM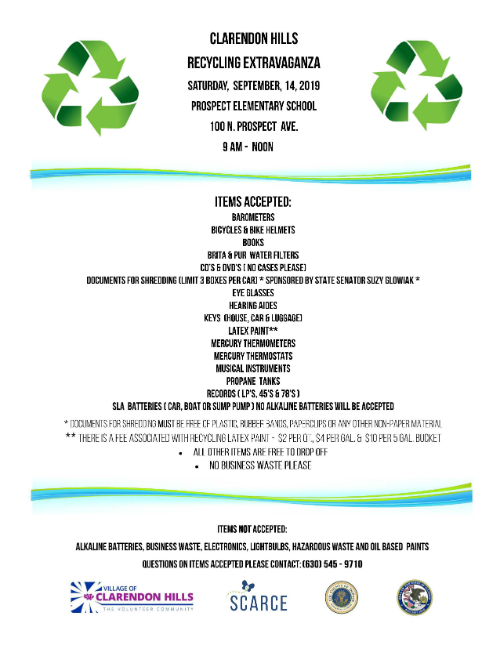 CLARENDON HILLS – Local residents are invited to participate in a mega recycling event on Saturday, Sept. 14 at Prospect Elementary School from 9 a.m. to noon.
State Senator Suzy Glowiak Hilton (D-Western Springs) is partnering with SCARCE, the Village of Clarendon Hills, along with different organizations within DuPage County for an exclusive recycling event.
"Many of our unwanted and lighted used items can find a second life at SCARCE," Glowiak Hilton said. "Responsible recycling of barometers, water filters, batteries, and paint can help keep these chemicals and plastics out of the natural environment, together we can make DuPage a little bit greener."
Residents can recycle barometers, bicycles and bike helmets, books, Brita and Pur water filters, CD's and DVD's (not cases), eye glasses, hearing aids, keys, mercury thermometers and thermostats, musical instruments, propane tanks, records and the SLA batteries found in cars, boats or sump pumps.
Glowiak Hilton's office is also providing shredding services. To accommodate as many residents as possible, participants are limited three boxes per person. To speed up the process, please ensure documents are free of plastic, rubber bands, paperclips or any other non-paper materials.
Latex paint can be recycled for a fee: $2 per quart, $4 per gallon and $10 per 5-gallon bucket.
Business waste will not be accepted.
For more information, Glowiak Hilton urges residents to reach out to her office at (630) 785-3177, reach out on Facebook at State Senator Suzy Hilton Glowiak or her website www.SenatorSuzyGlowiak.com.
Category: Press Releases