Published: Tuesday, June 04, 2019 05:02 PM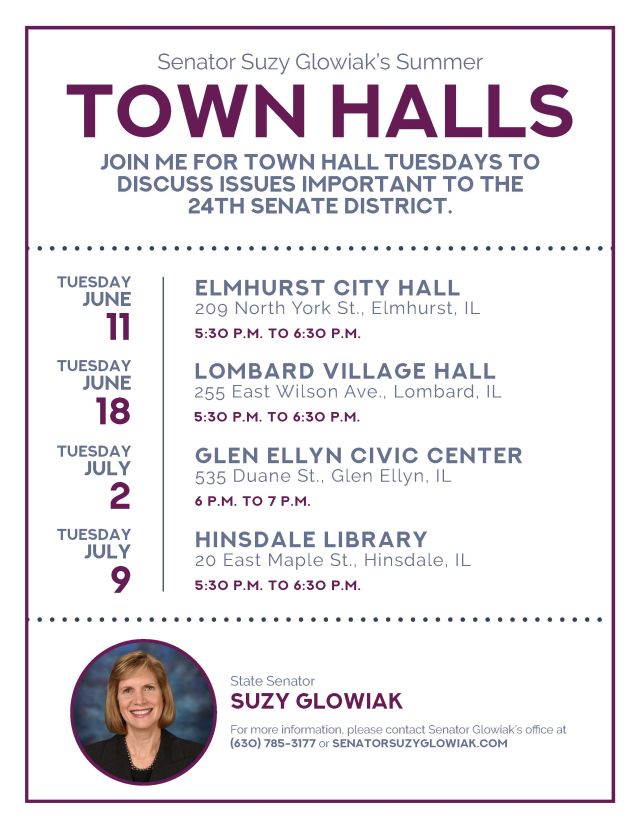 ELMHURST – State Senator Suzy Glowiak (D-Western Springs) is inviting local residents to a series of Town Hall Tuesdays to talk major new laws after a historic legislative session in Springfield.
Glowiak is kicking off her series of town hall meetings at the Elmhurst City Hall (209 North York, Elmhurst, IL) on Tuesday, June 11 from 5:30 to 6:30 p.m.
"I strive to ensure the citizens of the 24th Senate District's voices are heard," Glowiak said. "To help me better represent residents, it is imperative that we have respectful and informative conversations. Town Hall Tuesdays are a great opportunity to connect and have a meaningful discussion on policies that concern us all."
Additional Town Hall Tuesday meetings will be held on June 18 at the Lombard Village Hall (255 East Wilson Ave., Lombard, IL), July 2 at the Glen Ellyn Civic Center (535 Duane St., Glen Ellyn, IL) and July 9 at the Hinsdale Library (20 East Maple St., Hinsdale) from 5:30 to 6:30 p.m.
Glowiak recently completed her first legislative session in Springfield. The freshman Senator prioritized bipartisan legislation that protected the privacy of assault survivors, educated workers to help end human trafficking and fought youth homelessness in Illinois.
Glowiak worked across party lines and also split from her democratic colleagues to vote against tax increases and push for fiscal responsibility in state government.
"We have had a busy session in Springfield," Glowiak said. "There were trying issues and lively debates. Throughout the process, my priority has remained placing the people of the 24th State Senate District before politics."
Glowiak looks forward to presenting a legislative update on Town Hall Tuesdays and urges residents to visit www.SenatorSuzyGlowiak.com to stay up to date on events her office is hosting this summer.
Category: Press Releases