Published: Wednesday, September 09, 2020 04:03 PM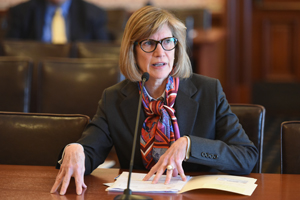 WESTERN SPRINGS – With the deadline to complete the census rapidly approaching, State Senator Suzy Glowiak Hilton is urging residents to participate in the 2020 Census before it's too late.
Glowiak Hilton is urging everyone to take some time and fill it out. Cook county is reporting lower response rate than 2010 and DuPage county is slightly above it's 2010 response rate, but until there's a 100% response rate, schools, roads, hospitals and other critical community services could be negatively impacted.
"Unlike 2010, the census now has an online option, making it easier than ever before to fill out your household's information and serve your community," Glowiak Hilton said. "It just takes a few moments and determines so much about what federal money comes to Illinois."
The census is now safer, more secure, and confidential, Glowiak Hilton said, and filling it out has never been more crucial as 2020 brings a new congressional district map, helps determine how federal funds flow into states and provides information that will affect communities across Illinois for the next 10 years.
Currently, only 58.1% of Oakbrook Terrace residents have filled out their form this year, which is substantially less than the 67.5% response rate from 2010. Additionally, just 71.7% of Addison Township residents and 65.6% of Lyons Township residents have filled out the form this year.
"As Americans, we all rely on one another to make our country work," Glowiak Hilton said. "Please take time and help shape our future."
Residents can complete the census for their household at https://my2020census.gov, or by calling 844-330-2020.
Category: News