Published: Friday, June 07, 2019 09:08 AM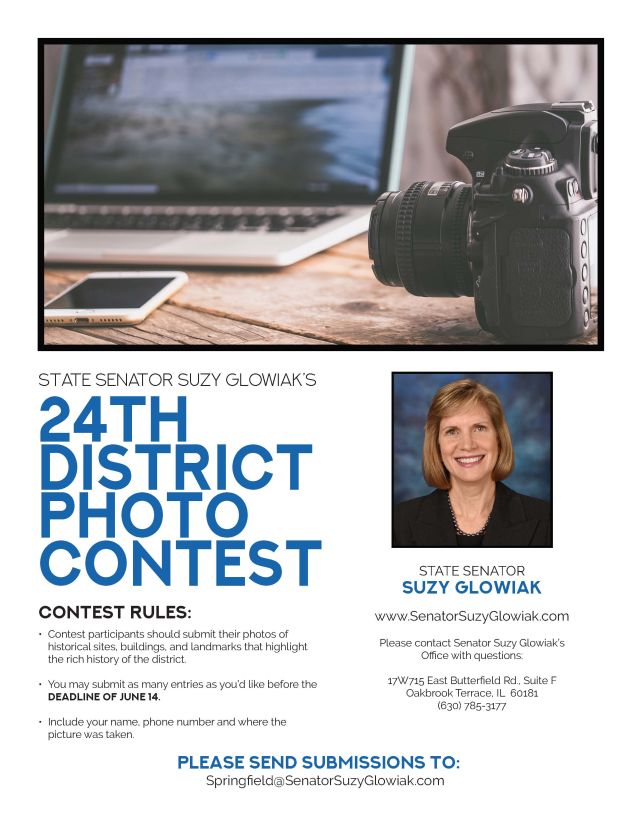 OAKBROOK TERRACE— State Senator Suzy Glowiak (D-Western Springs) is reminding local residents there is still time to participate in her first 24th State Senate District photo contest.
"Communities across the 24th Senate District have built a strong economy, affordable housing options and solid education systems," Glowiak said. "This competition is open to all residents of our district to join me in sharing the beauty we see every day with people across our state."
Participants will be asked to submit a photo that encompasses the communities of the 24th State Senate District. The winners will be displayed in Glowiak's Springfield and district offices.
"It has been a joy to see the district from local residents' point of view," Glowiak said. "I cannot wait to have local photographs in our district and Springfield offices."
The 24th State Senate District includes all or parts of Elmhurst, Oakbrook Terrace, Wheaton, Clarendon Hills, Downers Grove, Darien, Glen Ellyn, Hinsdale, Lisle, Lombard, Oak Brook, Western Springs, Westmont and Willowbrook. To look up addresses in the district please visit www.SenatorSuzyGlowiak.com.
Contest rules are as follows:
● Photos can be of historical sites, buildings or landmarks as well as scenic sights within the 24th State Senate District. Participants must identify locations with street addresses or the closest intersections. The name of the location is also acceptable if it is a park or school.
● Contestants may submit as many entries as they would like before the deadline of 5 p.m. on Friday, June 14, 2019.
● Include name, phone number and location of the picture with every entry.
● Winning entries will be displayed in Glowiak's district and Springfield offices. The photographer will be invited to the unveiling of their photograph.
● The contest is open to all ages.
Glowiak urges interested participants to call her Oak Terrance Office at (630) 785-3177 or visit www.SenatorSuzyGlowiak.com with any questions or concerns.
Category: Press Releases