Published: Thursday, June 13, 2019 11:46 AM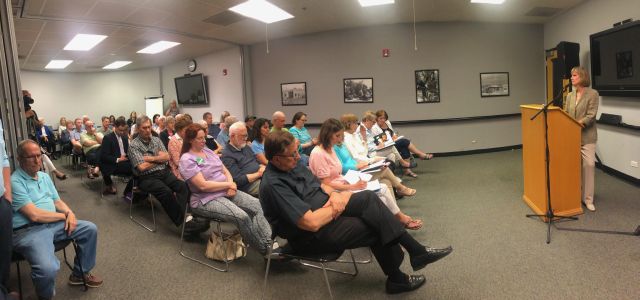 ELMHURST – State Senator Suzy Glowiak, a freshman legislator, hosted her first town hall meeting in Elmhurst Tuesday night, which allowed people to voice their opinions and give input on vital issues impacting the 24th State Senate District.
Nearly 60 local residents attended the open meeting to discuss budget concerns, adult use cannabis and other hot button issues debated in Springfield this legislative session.
"This legislative session was full of lively discussions and emotionally charged issues," Glowiak said. "It's imperative that I hear feedback from local residents on their priorities and concerns. I want Town Hall Tuesdays to give us an opportunity to collaborate and discuss ways we can move our communities forward to ensure our schools are well-funded and safe, small businesses prosper and we see an end to rising property tax bills."
Glowiak will host three more Town Hall Tuesdays on June 18 at the Lombard Village Hall (255 East Wilson Ave., Lombard, IL), July 2 at the Glen Ellyn Civic Center (535 Duane St., Glen Ellyn, IL) from 5:30 to 6:30 p.m. and July 9 at the Hinsdale Library (20 East Maple St., Hinsdale) from 5:30 to 6:30 p.m.
Glowiak recently completed her first legislative session in Springfield. The freshman Senator prioritized bipartisan legislation that protected the privacy of assault survivors, educated workers to help end human trafficking and fought youth homelessness in Illinois.
She worked across party lines and also split from her democratic colleagues to vote against tax increases and push for fiscal responsibility in state government.
"As a legislator, my priority is placing the people of our district before politics," Glowiak said. "The best policies are those that embody the needs and desires of the people of Illinois. I need to hear from you in order to ensure the voices of the 24th State Senate District are being heard in Springfield."
Glowiak looks forward to presenting a legislative update on Town Hall Tuesdays and urges residents to visit www.SenatorSuzyGlowiak.com to stay up to date on events her office is hosting this summer.
Category: Press Releases