Published: Wednesday, March 13, 2019 05:58 PM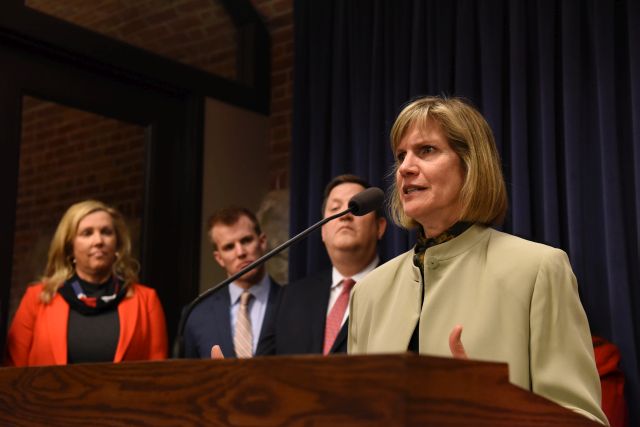 SPRINGFIELD – State Senators Tom Cullerton and Suzy Glowiak, joined DuPage County Board Chairman Dan Cronin and representatives of the Transform Illinois coalition on Wednesday to highlight and support proposed legislation limiting the size, scope and cost of local government.
"Government consolidation is one powerful tool we can use to find efficiencies," Cullerton said. "Transform Illinois continues to be vital in helping lawmakers reduce the government's footprint without sacrificing services for local residents. I look forward to continuing to work in a bipartisan manner to ensure government evolves with the needs of the people of Illinois."
Cullerton (D-Villa Park) advanced Senate Bill 1838 on Tuesday, which creates the School District Efficiency Commission to make recommendations on the number of school districts inthe state, optimal enrollment for a school district and where reorganization and realignment of schools districts would be beneficial.
"Property taxes in DuPage County and across the suburbs are crushing residents," Cullerton said. "The new school funding formula we passed two years ago will help us drive down taxes in our communities by funding schools the right way. The next step is evaluating redundant services at our educational system to eliminate the bureaucratic and outdated organization of school districts."
Transform Illinois members were joined by lawmakers sponsoring more than 60 bills in the General Assembly's spring session, aimed at improving local government efficiency, empowering voters to make decisions and increasing transparency and accountability.
"Embracing government consolidation will help save taxpayer dollars," Glowiak said. "We need to continue to work together to reduce the redundant and outdated layers of government that we have in our state."
The Transform coalition members noted increased interest in "smarter," streamlined government services, evidenced by more than 100 pieces of legislation introduced since 2016, creating new opportunities for local government efficiency.
"Illinois has more units of government than any other state in the nation and one of the highest property tax rates," Cronin said. "What unites our coalition is the notion that too many 'legacy' local government systems were created decades ago and they've never adapted to the changing times or new technology. But thanks to our Transform Illinois partners and thoughtful lawmakers, efforts to make government service delivery more efficient and effective are taking hold across the state."
Glowiak and Cullerton look forward to working with Cronin this legislative session to streamline government services and tackle wasteful spending.
Category: Press Releases