Published: Thursday, July 11, 2019 10:56 AM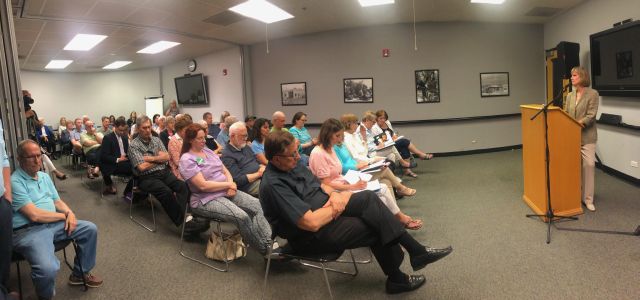 OAKBROOK TERRACE – State Senator Suzy Glowiak (D-Western Springs) expressed her thanks to the hundreds of local residents who participated in her Town Hall Tuesday Series.
The freshman senator said she learned a lot during the four town hall meetings in Elmhurst, Lombard, Glen Ellyn and Hinsdale that began June 11.
"I'm proud to see civic involvement is a priority for residents across the 24th State Senate District," Glowiak said. "We may not always agree on issues, but we did have productive and respectful conversations on policies that affect us all. I'm thankful to everyone who attended, shared their concerns and were engaged in the legislative process."
The most recent town hall meeting Glowiak hosted was on Tuesday, July 9 at the Hinsdale Library. By the end of the standing room only event, more than 100 people managed to participate in the lively discussion.
Popular topics of discussion included reproductive legislation, election security, education priorities in the state budget and environmental concerns.
Glowiak, who voted against raising the mileage tax, increasing car registration fees and progressive tax rates, said she sympathizes with residents feeling overtaxed.
"Suburban families have been overtaxed for years," Glowiak said. "The focus needs to shift to creating jobs and encouraging economic development in our communities. I pledge to continue to work to find ways that eliminate government waste and abuse in our budget to ensure taxpayer dollars are spent responsibly and effectively in Springfield."
To help solve the pension crisis, she sponsored Senate Bill 1810 which would eliminate the General Assembly Retirement System for future senators. Glowiak has declined to accept a pension.
Glowiak assures residents who were unable to attend that her office is always available to the residents of the 24th State Senate District.
Glowiak urges residents to stay connected to news in Springfield and the community by signing up for her e-newsletter list on her website www.SenatorSuzyGlowiak.com or following her on Facebook or Twitter.
"Part of being an elected official is listening to the concerns and answering the questions of the people I'm elected to represent," Glowiak said. "If you have any questions or concerns please do not hesitate to reach out to our office. We are here to serve the needs of the 24th State Senate District."
The district includes all or parts of Darien, Elmhurst, Oakbrook Terrace, Wheaton, Clarendon Hills, Downers Grove, Glen Ellyn, Hinsdale, Lisle, Lombard, Oak Brook, Villa Park, Western Springs, Westmont and Willowbrook.
Category: Press Releases