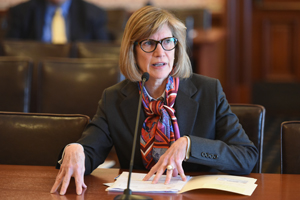 WESTERN SPRINGS – State Senator Suzy Glowiak Hilton (D-Western Springs) is highlighting the new employee safety measures for businesses that will reopen under the modified Stay at Home Order.
"Protecting the health of employees and customers is paramount as we begin to reopen the economy," Glowiak Hilton said. "These guidelines clearly lay out what steps employers should take to keep everyone safe and healthy."
As businesses begin to reopen they will be required to provide face masks for employees who are unable to adhere to social distancing requirements. Other safety measures include occupancy limits and changing shifts so that social distancing guidelines are being followed. If your place of work is not adhering to these new guidelines, please report any violations to the Attorney General's Office at 844-740-5076 or at This email address is being protected from spambots. You need JavaScript enabled to view it..
The most up-to-date COVID-19 information and resources can be found at coronavirus.illinois.gov. Senator Glowiak Hilton's office will remain closed until further notice, but staff is available to help access these and other services at 630-785-3177 or senatorsuzyglowiak.com/contact-us.