Published: Tuesday, June 25, 2019 11:30 AM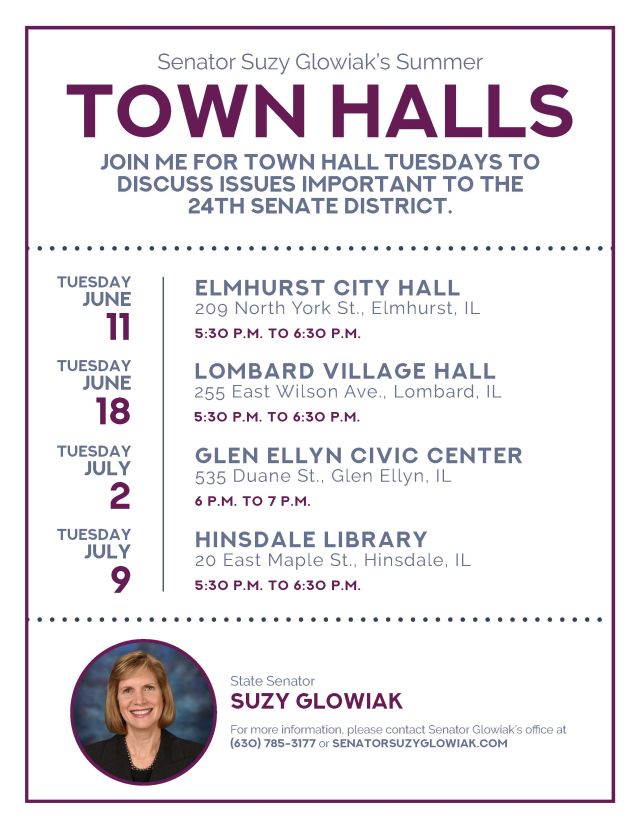 GLEN ELLYN— Senator Suzy Glowiak is hosting her next Town Hall Tuesday in Glen Ellyn on July 2 from 6 p.m. to 7 p.m. at the Glen Ellyn Civic Center.
This will be Glowiak's third town hall meeting this summer.
"Part of being an elected official is listening to the concerns and answering the questions of the people I'm elected to represent," Glowiak said. "We may not always agree, but I strive to host productive and respectful conversations to have meaningful discussions on policies that affect us all."
Glowiak previously hosted town hall meetings in Elmhurst and Lombard. There will be an additional town hall Tuesday on July 9 from 5:30 to 6:30 p.m. at the Hinsdale Library (20 East Maple St., Hinsdale).
She recently completed her first legislative session in Springfield. The freshman Senator prioritized bipartisan legislation that protected the privacy of assault survivors, educated workers to help end human trafficking and fought youth homelessness in Illinois.
She's sponsored Senate Bill 1810 which would eliminate the General Assembly Retirement System for future senators. Glowiak has declined to accept a pension.
"As legislators, it is our responsibility to be part of the solution," Glowiak said.
Glowiak urges residents with questions or concerns to attend a town hall meeting or to call her office at (630) 785-3177 or visit www.SenatorSuzyGlowiak.com.
Category: Press Releases